A masterpiece of our chefs
Using lavish delicacies of Hida

We offer you dishes with fresh seafood purchased from Kanazawa every morning, and seasonal ingredients from Hida. Our chefs lavish the highest attention on the appetizers. They put their souls into the creation of the exquisite appetizers that would be perfect for the first course of our kaiseki (multi-course Japanese cuisine). This would truly be an unforgettable experience to delight your eyes and palate. You can enjoy a luxurious time amidst the natural beauty of Shokawa.


We offer you this kaiseki with tastes of Hida and fresh seafood purchased directly from Kanazawa.

Please enjoy our "Fresh seasonal sashimi" from Toyama Bay, "A5 Rank Hida Beef" with beautiful marbling and profound flavor, "Salted Char" freshly caught every morning, and our handmade "100% Buckwheat Shokawa Soba".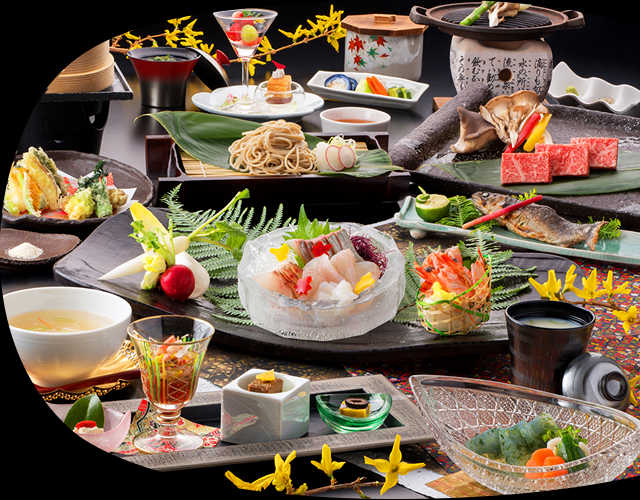 All the kaiseki choices come with the buffet.

We offer our guests all-you-can-eat buffet so that they can enjoy the traditional Japanese cuisine in a relaxed atmosphere.
Please help yourself to our seasonal tempura, original shokawa soba, vegetarian medicinal soup, soymilk Suttate Soup, and other dishes and drinks as much as you like.
*Please note that there might be cases in which we cannot offer you the buffet. In such cases, our staff will serve the buffet dishes at your table. (Feel free to ask for seconds if you'd like.)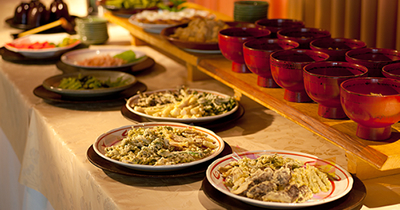 [About our sashimi]

*When the market is closed, we may use the cultivated fish
[About our kaiseki]

*Dishes may change depending on availability.
*For those who order later than 5 pm the previous day, we may not be able to prepare the sashimi. In that case, we will offer you an alternative dish such as "lobster salad" or "whole simmered shark fin".

Fresh fish purchased directly from Kanazawa Chuo Market.
We have mouth-watering regional food produced in an environment surrounded by bountiful nature and water. For our guests' better understanding of the quality of the beef we use, we place identification numbers of each cattle on your table. We demand the best and freshest vegetables to delight our guests. Also, we purchase fresh fish directly from Kanazawa every morning.
"Hida beef" is known as one of the finest beef brands in Japan.
It has the highest grade of marbling and it melts in your mouth.
It is said that Hida beef is the best among the variety of other high quality beef brands.
We purchase the best and freshest fish caught in Kanazawa every day, so that our guests can have delicious experience without taking the trouble to traveling all the way down to Himi or Toyama.
In the spring, various edible wild vegetables grow in our garden. They are best served fried, because the natural flavor will be contained through the frying process.
With clear clean water and day-night temperature difference, Shokawa is famous for growing these delicious crops which can be eaten fresh.

We offer a well-known rice brand "Koshihikari" grown in Yasuzuka, Niigata, a region known worldwide for the quality of their rice. "Koshihikari" is known to be the most delicious rice brand in Japan, and noted for its sweet taste and slight stickiness.
We polish the rice before cooking it, to ensure we can offer our guests the freshest rice in the best possible condition.