to the haven where you will find true comfort that we have all been looking for…
As you open the window, a light breeze strokes your skin.
Clear water streams out as you turn on the faucet.
This is the place wrapped gently by nature.
We hope you will find the best room that fits your preference.
Deluxe Suite
Western style
One room only
Western style 50㎡ Twin bed room
Up to 2 people.
Non smoking rooms.
Equipped with bath and Washlet toilet.
・ deluxe suite, limited one room per day
・ with state of the art FUJIRYOKI massage chair
・ all bamboo flooring which stimulates and is comfortable to the feet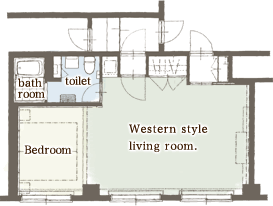 bath, Washlet, TV, satellite broadcasting, telephone, tea kettle, tea set, refrigerator (no beverages inside), slippers, shampoo, hair conditioner, body soap, toothbrushes, face towels, bath towels, Yukata (Medium size only)